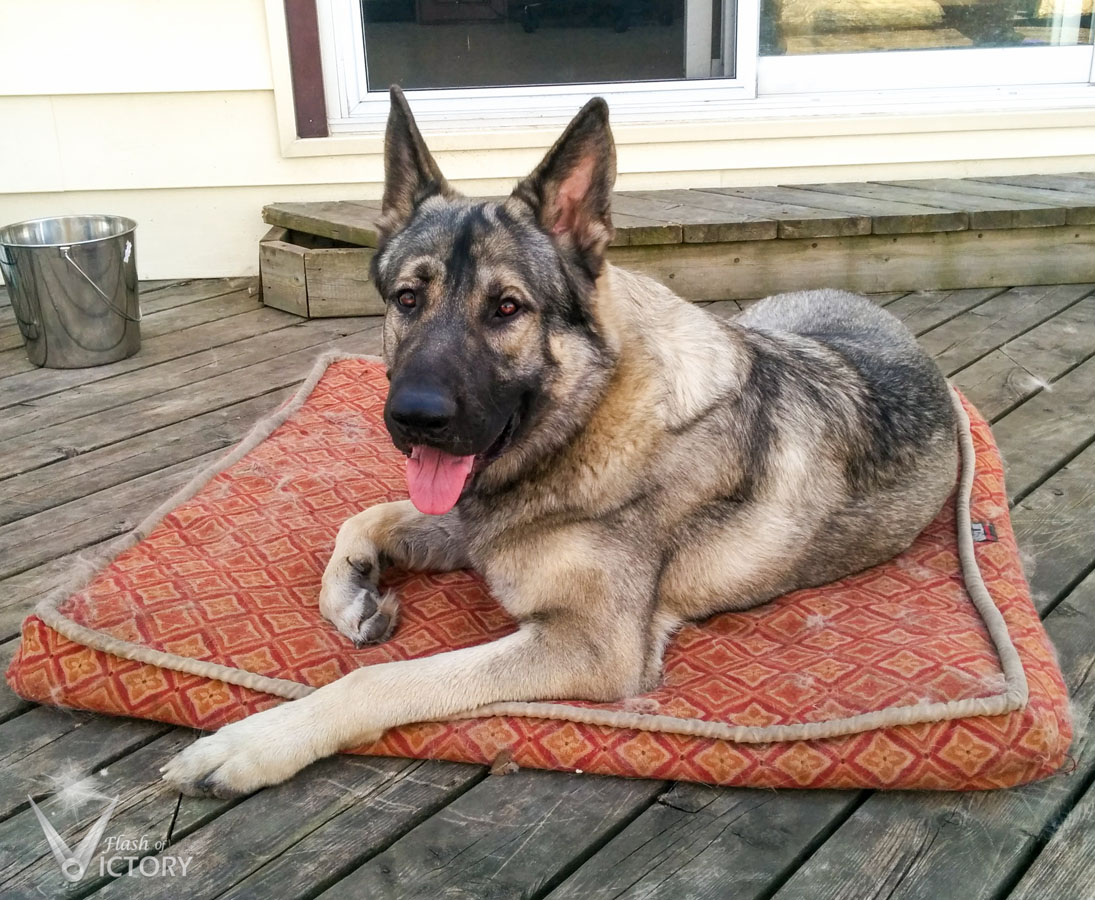 Details
Name: bChPtd Victory's Storming Thunder TT
Date of Birth: June 12, 2012
Breeder: Victory Shilohs
Gender: Male

Coat: Smooth
Colour: Grey Sable

Height: 30 inches
Weight: 125 pounds

Hips: PennHip L: 0.27 R: 0.28
Elbows: OFA Normal
Heart: holtered clear

Temperment: Medium
Temperament Test: Passed

About Beau
Beau, like his mother, is a great representation of what a Shepherd is meant to be. He's stable, loyal, eager to please, protective, and he loves to be involved with his family.
It is often Beau's huge head, heavy bone and well muscled build that capture people's attention, it all contributes to a very impressive and imposing frame. However it is the sweetness in his eyes, his goofy grin and his zest for life that will capture your heart.
Beau has always had a lot of energy and he loves to stay busy, but as he's matured he's able to take a toy to quietly chew and relax. Of course, if something more interesting is happening, he'd much rather be involved. Beau also has a ton of drive. His favourite toy is a one of the large "Jolly Balls" designed for horses (it is a 14" diameter ball with a big handle). When you bring out the toy, he's at complete attention. A train could pass right next to him and he'd still be staring into your eyes waiting for you to give a command so he can get you to throw the ball. As hard as it may be to believe, food is an even stronger motivator for Beau. Feeding time is his favourite time of day! We are sure he'd figure out how to do a backflip for a meal if that's what we wanted him to do.
Beau does have a pretty strong protective instinct, mostly relating to his space. He's very watchful of the property and will let out his booming bark if someone approaches the yard. He usually fine with people walking past the yard, it's more the direct approach "at" him that causes him to put on the big dog bark. However it's all noise and bluster and he can easily be called off to play a game with one of his toys.
For Beau, everything in life is just a game. He's always looking for a way to have fun. So sometimes, when he's left completely to his own devices, he can still be a little bit of a stinker and manage to get into some trouble. When he's caught, he'll do his best to try to start a game with play bows and bounces to try to get you to laugh or play.
Despite being a busy dog, Beau is also a real glutton for affection. He will sit or lay with you for as long as you will pet him. All the while, looking at you with a big silly smile. If you stop, he'll look at you for a while to see if you'll change your mind and if not, he'll wander off to find something else to do.
Beau's Ideal Home
Beau would do best with a strong, consistent leader - preferably with some previous Shepherd experience.
With all of the drive and desire to work with his pack leader, Beau would really excel at so many of the dog sports out there - flyball, agility, lure coursing, Rally-O, you name it. So we'd love to find him a forever home that is really interested in being involved with the dog and doing things together. Beau bonds tightly with his pack and wants to be engaged and he needs that energy release.
Beau is a more dominant dog, so he does need a strong leader that he can respect. For that reason, we would not place him in a home with an existing dominant dog, although that being said, he would do fine with a dominant female. Beau is very respectful of female dogs and will not challenge them. With a dominant male there could be more competition between them, but with a submissive male, Beau does fantastically! Beau and Charger are wonderful buddies and since Charger poses no real challenge, Beau will even take the submissive role during their play sessions.
If you are interested in a true all round adventure ready, buddy dog, Beau could be just the boy for you.