Important Dates
Birthdate: May 11, 2014
Puppy Evaluation: July 5, 2014

Important Dates
Birthdate: May 11, 2014
Puppy Evaluation: July 5, 2014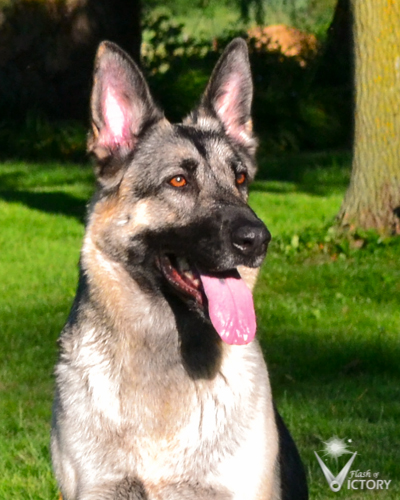 Hemi
bCH Victory's Hemi of Shamira-Zion
DOB: June 12, 2010
Grey Sable Smooth, NB3
Height: 27"
Weight: 95 lbs
Hips: Good (L: 0.32 R: 0.29), Elbows OFA Normal
DM DNA: Clear
Temperament Test: Passed
About Hemi
Hemi is our sweet, goofy, family girl. Her favourite thing is playing with her pack and she regularly greets us on her back with all four legs up in the air and tail wagging. She also has a serious side and is the first to let us know when something is out of place - for example when our front door blew open during a nasty wind storm it was her who came to wake us up. She has great working ability and loves to be engaged.
Hemi is a solid, strong and muscular girl. She is almost 100 pounds of pure athleticism and is built for speed and stamina. Although to see her on a lazy day, curled up on her bed you wouldn't know it!
Visit Hemi's page for more about our special girl.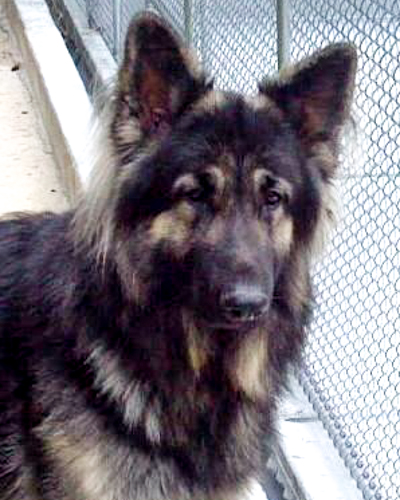 Lomax
Solace's Lomax Music of IHOSS
DOB: Jan 14, 2012
Black Sable Plush, Non-NB
Height: 32"
Weight: 120 lbs
Hips: Good, Elbows OFA Normal
DM DNA: Clear
Temperament Test: Passed
About Lomax
Lomax is a laid back, confident, and very friendly boy. He has never met a person or animal he hasn't wanted to make his friend. One of his favourite things is to get belly rubs and he will gladly accept them from anyone for as long as they are willing to give them!
Among his many other conformation virtues, Lomax brings tons of height and bone to the pairing. Although his size doesn't show it he would love to be a lap dog! He always crouches low when meeting smaller dogs or animals and is the epitome of a gentle giant.
For more information about Lomax visit his webpage or contact Laura at Solace Shilohs
Puppy Expectations
We are expecting this pairing to produce some extra large, very sweet family oriented Shilohs. Both Hemi and Lomax are very eager to please and they have both produced this same trait in their previous offspring. Lomax is more laid back which will offset some of Hemi's higher energy and play drive. We expect the temperaments will likely be around 'medium' with some possibilities for medium-soft or medium-hard.
If you have an interest in getting involved in any sort of dog training - be it trick training, therapy work, Search and Rescue or otherwise - this could be a great litter for you. Hemi and Lomax have close relatives involved in all of these activities and the combination of their temperaments could lead to some great training partners.